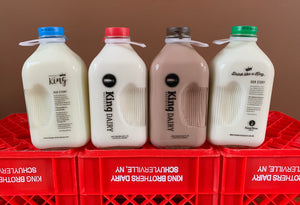 Farm Fresh Milk
When only the finest and highest quality will do, let Udderly Delicious be your door step dairy! Straight from the farm to your doorstep! We assure you of the highest quality milk. All of the milk is 100% certified natural, with no rBST, no GMO, no growth hormones, and no preservatives. Our milk comes from King Dairy Farm up in Saratoga, New York. We are a single-sourced milk meaning that there is no blending of milk from other farms, thus assuring quality control from seed to bottle. The cows are raised from calves on the farm and only fed crops grown on the farm. All of the bottles are returned to the dairy farm where they are sanitized and refilled. By doing this, we protect our environment from harmful plastic containers. Delivered in refrigerated trucks, we guarantee ice cold delivery, even on holidays and inclement weather. We will be there for you! We also carry over 300+ delicious items including the finest quality gourmet meats and seafood. We promise this will be the best and most fresh tasting milk you will ever have!
About Us
---
Udderly Delicious since 1985 What started out as a crazy idea has now become a full-time business. After selling my advertising company, I was looking for a new venture. I...
Once you sign up to start receiving deliveries, we will take a standing weekly order from you. Depending on your town and address, we will determine what day your delivery...
These are currently the towns that we have routes in. We are always looking to add new locations, so if you don't see your town here, don't worry! We may soon...
The chocolate milk is divine. Like heaven sent. Probably made by angel cows on clouds that are hand fed hay by cherubs. Last week we had two half gallons delivered and...
Parkbench.com February 2021 MyCentralJersey March 2020 Staten Island Advance in March 2020 Asbury Park Press April 2020 USA Today Asbury Park Press June 2015 Staten Island Advance in the February 17th 2010...
How do we order? Just fill out the sign up form or reach us at either 732-360-9991 or udderlydel@aol.com and we will be in contact you to set up an initial...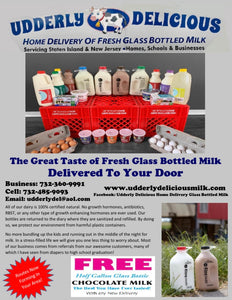 Make sure to share our flyer and spread the word about us to your friends & neighbors!!